PLEASE NOTE
ON FRIDAYS & SATURDAYS WE USE AN ID SCANNER. PLEASE MAKE SURE YOU ARRIVE WITH VALID PHOTOGRAPHIC ID, REGARDLESS OF AGE, TO AVOID DISAPPOINTMENT.

Star Shaped
9 November, 2018 @ 10:00 pm

-

1:00 am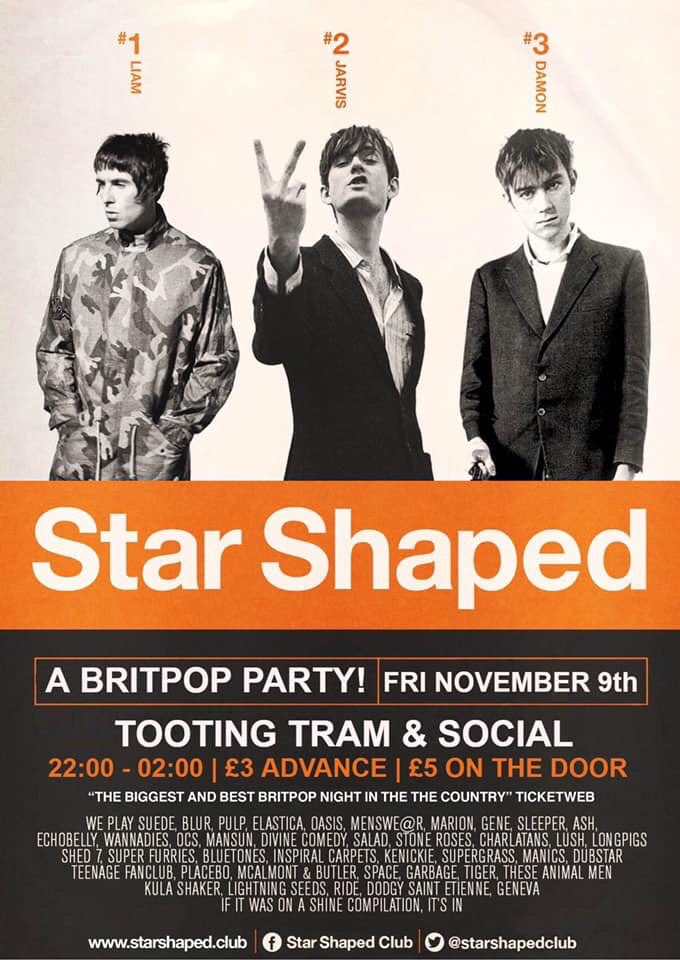 We'd strongly advise getting your advance ticket ASAP for this. Known to artists and fans of the era as The Home of Britpop, Star Shaped has been running sell-out clubs, residencies and live events in London, Paris, Manchester, Glasgow, Brighton, Birmingham, Oxford, Leicester and other cities for years, and now they're bringing their brand of 90s mayhem to Tooting Tram and Social! Very often these club nights are sold out well in advance, with no possibility of paying on the door, so grab one now and get the best night of any month in your diary!
Keep up with all the general Star Shaped goings-on by joining our Facebook page.
Remember when Indie clubs were good? When the charts were filled with great bands? Remember when your weekly reading was the NME and Melody Maker? And the highlight of your month was the release dates of Select and Vox magazine? We do. Star Shaped is the biggest and the best Britpop night in the country and now it is coming to Brighton.
Grab your tickets, get your Adidas Gazelles/Samba and/or glittery eyeliner on, and come and party with Damon, Liam, Jarvis, Justine, Brett and co…Tonight we're gonna party like it's 1995!