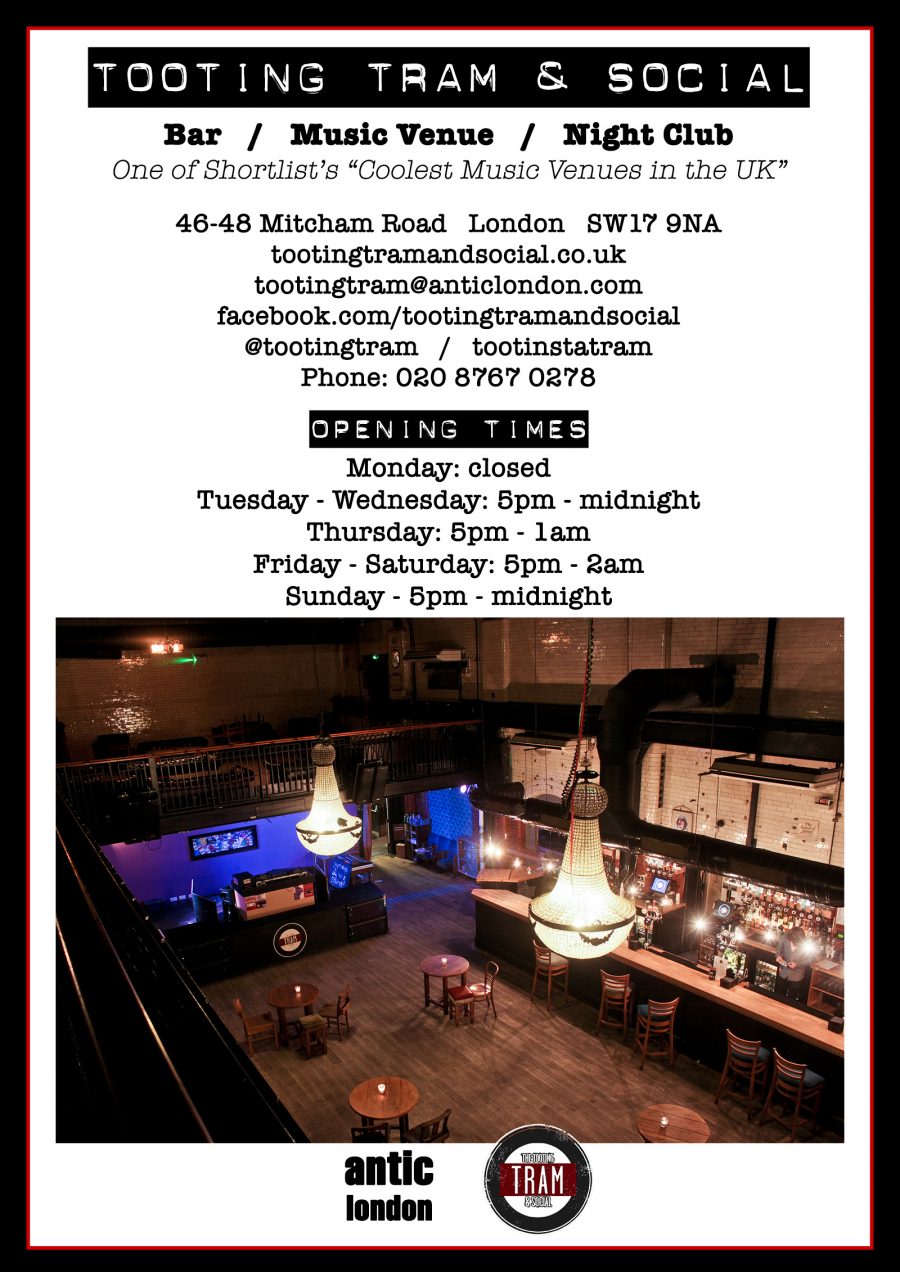 Seconds from Tooting Broadway station, Antic Co.'s Tooting Tram and Social is for those who want something a little different from the standard pub setting; a venue with a definite wow factor.
The Venue.
Bar, club, music venue.
One of Shortlist's "Top 10 coolest music venues in the UK!"
With the Antic team involved you're bound to have a good night. With The Tooting Tram and Social, this theory is proved in spades. We guarantee that The Tooting Tram and Social will tick every single one of your boxes. The venue is one of the top night spots to visit in South London. Inside, it's cavernous with 75 feet separating floor and ceiling, a large main hall and mezzanine levels. Most importantly the decor and welcome will make you feel right at home; kitted out with elaborate chandeliers and huge comfy leather sofas that offer the perfect space in which to unwind.
Keep an eye out for some of the best new music from across the globe and top draw club nights, the party animal in you will be blown away by THE LOGIC CA SERIES PA. With some of London's top DJ's expect a memorable night of dancing, drinking, and good vibes.
The Tooting Tram caters for all seven days a week, with regular weekday nights. Tuesdays play host to one of South London's best open mic nights, hosted by Matt Belmont! Live music from up and coming artists from across the UK on a Wednesday. Club nights with mixture of residents Wolf Club, DJ 7oel and DJ JDEN, Channel one sound system. Radio X's legendary John Kennedy hosts regular nights know as "The Remedy" with some of his favourite rising stars in music. We've had a wealth of incredible artists through our doors with the likes of public service broadcasting, stornoway, Kill it Kid, The XCERTS, Tellison, Kongos, Los Campasinos, Paws, model aeroplanes, Lyla foy, The Bohicas and Arcane Roots to name a few!
With seating areas throughout, you can feel like you are in a smaller venue, allowing you to enjoy the space with a small group of friends.
The Last Word
One of the best nights in south London, if you're looking for somewhere fun and safe to dance the night away, Tooting Tram and Social is the place to be. Entry is free before 10pm and £3 thereafter on Friday and Saturday's (unless stated otherwise) and the license runs until 2 am at the weekends and 1 am on Thursdays making this the ideal venue with approachable door staff and hardworking bar staff to make sure you have the best night out in London.
We hope to see you soon!
PLEASE NOTE – ON A FRIDAY & SATURDAY WE USE ID SCANNER. PLEASE MAKE SURE YOU ARRIVE WITH VALID PHOTOGRAPHIC ID, REGARDLESS OF AGE, TO AVOID DISAPPOINTMENT.
CLICK HERE TO EMAIL FOR ALL MANAGEMENT ENQUIRIES
CLICK HERE TO EMAIL FOR ALL BOOKINGS
For all wedding videography and filmmaking, we highly recommend:
HERE AT THE TOOTING TRAM AND SOCIAL WE OPERATE A CHALLENGE 21 PROCEDURE AND YOU WILL BE REQUIRED TO BRING VALID PHOTOGRAPHIC I.D (PASSPORT/DRIVERS LICENCE)
Share